Creating a tool to assist educators in their classroom endeavors



At the Learning Technology Service at York University, I worked together with another designer to create a new online tool to demonstrate the department's capabilites to faculty and staff. The project involved me exploring user-centred design methods to understand what the potential clients, shareholders, and support staff, would need/want from their online service.

Role
Project Management, User Research, Interface Design

Tools Used
Trello, Draw.io, Adobe InDesign, Figma, Wordpress

Timeline
September 2019 - Ongioing

Team
1 Project Associate/Designer
2 Stakeholders


Problem
How do we build a tool that allows educators to understand their potential for their classrooms?
Understanding the Issue
To get a tighter understanding on the project, I conducted a usability audit on their current website to asses any potential red flags and problem areas to focus on.

The key takeaways from my audit concluded that:

1) The site lacked a consistency in how it expected it's user to interact with it.

2) It lacked information on the services the department provided

3) The elements that required the user to interact with lacked a call-to-action

4) There were no standards for the user to determine why they should be contacting the department.

User Research
The team then interviewed our department's managers for insight on their vision of the tool. Our goals going into the interviews were: to better understand their idea for how the department should be shown to their clients, as well as determine what their goals would be from the future website. These interviews allowed us to determine the following goals:


1) To create an information base of what the LTS does and how they serve faculty

2) To establish a point of contact for troubleshooting

3) To provide inspiration and resources for professors looking to improve how they run their classes

Our next steps were to empathize with our support staff, and interview them to understand how they currently go through their day-to-day, as well as identify any present frustrations or difficulties in their process. Through this, we learned that to help their clients better, the support staff wanted a singular database of information regarding the tools and services LTS provides, a public online help guide for said tools and services, and a more detailed contact protocol. This would increase efficiency in their workflow, allowing them to service more clients daily with ease (provided the clients follow the detailed contact protocol).
In lieu of being able to interview actual users due too budgetary restraints, we decided to look at previously collected survey data about the workings of the department. This allowed us to understand the pain points of our clients, which overlapped with our support staffs frustrations, as well as our managers goals:
To have a unified information base of the services and tools to inform clients of their possibilities and increase internal efficiency.

Design Solution

Create a web experience that projects the values and goals of the Learning Technology Services at York U, while displaying the resources available to educators within the University.
Information Architecture
The first thing we did when approaching our solution was to iron out and establish an information architecture. To get an understanding of how we wanted to potentially organize the website, we crafted an activity where our managers would create groups using existing items on their current website, as well as items off a previously constructed excel file of all the services they provided. This exercise was done with our stakeholders through the tool Trello. Trello typically isn't used for card sorting, but we found its interface intuitive enough for them to understand the purpose of the assignment, which yielded great results.


Personas
Our first step in understanding of the kinds of users we were designing for was to categorize them into groups and identify the pain points and needs for each one. We decided on the following:

1) Faculty New to York University
2) Someone who knows of LTS and knows what they want
3) Someone who knows of LTS and doesn't know what they want.

Unfortunately, we lacked the budget to go out and interview current users who interact with the department, so we went to our support staff and polled them on the kinds of tickets they recieve, and the common client they help.
1) Faculty new to York University
(Click to expand)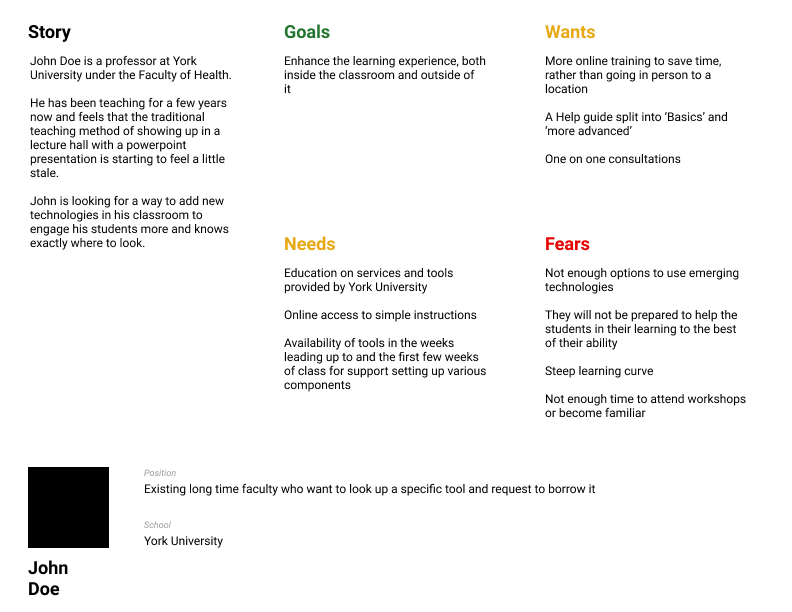 2) Someone who knows of LTS and knows what they want
(Click to expand)
3) Someone who knows of LTS and doesn't know what they want
(Click to expand)
System Map
Developing the system map brought the most challenges to the project. Accumulating the information we collected was simple enough, however the ability to contain the scope of the project within what was realistic within our allotted timeframe as well as our budget. The system map went through countless iterations but we eventually developed one that met both our goals and our managers expectations.


Creating a Prototype
With the system map set, we moved on to creating prototypes of varying fidelity. Using the collaborative design tool Figma, the team came together to design a series of interfaces that went through countless iterations before landing a finalized design.
First Prototype
Our goal for the first prototype was to use existing Material Design components to create a quick litmus test of the flows we planned. Thankfully, our feedback instantly provided us with the information that it would take too many clicks on the users end to get to where they want to go.
Second Prototype
With our second prototype, we wanted to get further in terms of visual ideation to make it feel more connected to the York University eco-system, as well as further our efforts to build a flow that worked within our managers and our own demands. With this attempt, we removed the biggest strain on our project with the individual tool pages and simply made the website a database of the tools the department provided. However upon feedback, we recognized that the lack of interactivity didnt fully service our potential users, and we moved on to a more dyanimc prototype
Final Prototype
After much deliberation, we finally designed a prototype that was able to meet all of our expectations. It provided the right amount of interaction and was knowledable enough that first time users would easily be directed to what they were looking for. We conducted user testing with the support staff and although there were certain services that needed to be removed as they were no longer offered, they found the experience simpler to their previous one and would easily be able to direct future users/clients to the documentation they would need.
Reflections
This was an exiciting project unlike any I've worked on before. It was amazing because it pushed me to not only learn more about the industry I wanted to pursue, but other industries as well such as project management.

If I could do this project again, I would definitely try to include the support staff and many more points in the project. We would meet with them for specific things such as information about the clients they assist and how they do it, but looking back I wish I brought them in more for each prototype presentation rather than waiting till the end to get them to test it.

The website was meant to be made for clients, be we forgot at times that a key user was our support staff as well.